Metfab Metals, LLC is a full-service metals fabricator of all metals. Our roots are in all aspects of the metal fabricating business dating back to the establishment of our first family shop in 1947! The Murray family has consistently run the business now for over FIFTY years!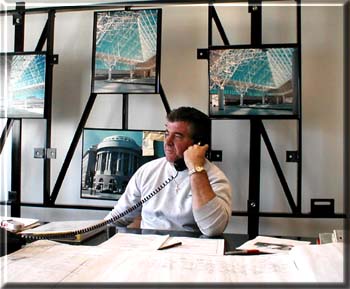 Since a complete re-organization of a former steel business and the launch of the entirely new "Metfab Metals LLC" in 2005, we now deal in all types of metals and alloys. We manufacture and/or supply associated metal products to the construction industry and otherwise. In doing so, Metfab uses all the modern metal fabication techniques and processes.
Our successfully-streamlined production means that we regularly turn out ever-better finished products and consistantly deliver them early for the convenience of our customers and to expedite the construction schedule of the project. "We always deliver on time." This is how we have grown so much this year in all types of fabrication in the construction industry ------ and grew our business and your confidence in us. Stone anchors are our "stock in trade", but we make a whole spectrum of related and unrelated parts. Presently, James A. ("Jim") Murray serves as our Chief Operating Officer. He also is literally always available to you.
The primary focus of Metfab Metals is, and always has been, and always will be the servicing of our customers. To accomplish this, we put in place this past year the streamlining of our resources to increase our capacity to service our customers' "rush" needs faster and better than any other fabicator. We have indeed accomplished this. We have added more trucks to our fleet which is now available "24/7" too, along with "48 hours from order to shipping/delivery" when your project demands this. We have on-call personnel and computer-ordering to handle same-day orders on a "24/7" basis. The combination of equipment upgrades and essential outsourcing for almost-limitless allied product requirements has increased our capacity to help our customers exponentially. As you will see below, we can provide project consulting and coordinate practical planning beyond the basic specs of the project drawings.

Since 2006, we have realized the escalating amount of truly "SPECIALTY" work we are doing for an increasing number of specialty contractors. These requests were for elements of building envelopes, glazing, security enhancements and otherwise in myriad aspects of unique projects. We have made, at points, hundreds of feet of polished stainless steel custom railings to very demanding tolerances as these would surround a roof full of high-end features in a Battery Park condo complex near the World Trade Center site in Lower Manhattan. [Look further into this website for pictures of this and the "heliostats", engineered and made in Germany, to merge into these railings to provide reflected sunlight to the courtyard below, effectively cut off from all direct sunlight by the building itself. This railing was truly a specialty fabrication and installation!] In 2008, another great customer presented the challenge of 'roofing' and making enclosure parts to cover a commercial courtyard surrounded by two older, existing buildings and a brand-new parking ramp in Washington, DC. (See our Newsletters on this in December, 2007 and March, 2008.)
We've joined the Glass Association of North America (GANA) in response to the kinds of related building envelope metal work we were doing for major glass and commercial building contractors. Among our customers now in this facet of METFAB Metals' expanding base, we are happy to count:
Enclos of Baltimore, MD;
Benson Global of Portland, OR;
Turner Construction of NYC, NY;
J.E. Berkowitz, L.P. of NJ;
Schuco USA, L.P.;
Harmon Inc. of Prairie, MN
And many others.
With our growing expertise in such evolving technologies as "bomb-blast", Solarban and a truly synergizing world of "GREEN" and LEED specifications, these contractors have called upon us to coordinate the fabricated metal needs (in steel, aluminum, stainless steel and other unique metals) to fulfill the sealing of modern energy-efficient buildings and other structures. In these new ventures we at METFAB Metals are again demonstrating our proven ability to make anything your architect can draw!
METFAB Metals is now located in Orange, NJ (Essex County) --- astride I-280 ---and presently occupies two adjacent fully equipped shops with warehousing and staging areas, providing outside storage for available inventory for your 'rush' needs. Our offices are at 560 Freeman Street, Orange, NJ 07050.

What separates METFAB Metals from any competitor is our knowledge of metals ----- plus how we expeditiously fabricate our many and different products ----- all also adjustable to your individual specs. We listen and work hard to understand what is important to our customers. To us, high quality personnel and products on the one hand and on-time delivery on the other are equally important business qualifications. To our customers one more thing is essential --- RELIABILITY --- This is our hallmark. When we at Metfab Metals make a promise, we keep it and will work any day, any hour, any shift to get your needs fulfilled. This company's reputation and our personal reputations are built on this premise. It's our credo.

Our staff:

James A. ("Jim") Murray
COO, General Manager of All Operations

Chris DeSimone
Estimating/Project Planning/CAD Operator

James A. Murray, Jr.
Marketing/Sales Director

Lorraine Murray
Finance Manager & Managing Director
of Metfab Metals O.S. Division


Kenya Roberson
Administration

Edward Huneke
Production Supervisor &
Quality Control

Pablo Chang
Shop Foreman

Board of Independent Advisors:

James A. Murray, Jr.
Pace University, New York City

Richard J. Carroll
Former General Counsel

James Hollywood
Former CEO --- high-tech industry

This website is intended to provide more detail on our broad competence and experience in the metal fabricating business. We invite you to contact us for more detalis. You can also call directly to our COO (Jim) or our project planner (Chris), both at 973-675-7676. Or, if you are in the NY metro area, just call and visit our facilities to see first-hand all we do and all we can do for your construction needs. Our guiding principle is "There is no substitute for PERFORMANCE". Metfab follows this concept so that, if your architect can draw it, we can accurately fabricate it AND deliver it on time. We would be happy to provide a short list of satisfied customers to back us up with their endorsement.